About

Mission

History

Faculty and Staff

Artistic Director/ Choreographer
Registration Guide

Open House

Applications


Policy Statement

Auditions & Placement

Scholarships

Class Openings

Fall Program

Winter program

Summer program

Calendar
Divisions


Children's Division


Advanced Division


Open Division
Performances


Annual Festival


The Nutcracker

Theater for Young Audience

Programs


Arts in Education


Boys Dance & Fitness


Special Education


Teens & Adults

Parents' corner


Parenting


Order Pictures


Video Channel


FAQ

Children's room


Activities

Business


Sponsorship


Volunteering


Internship


Employment


The School of Russian American Ballet at Staten Island
---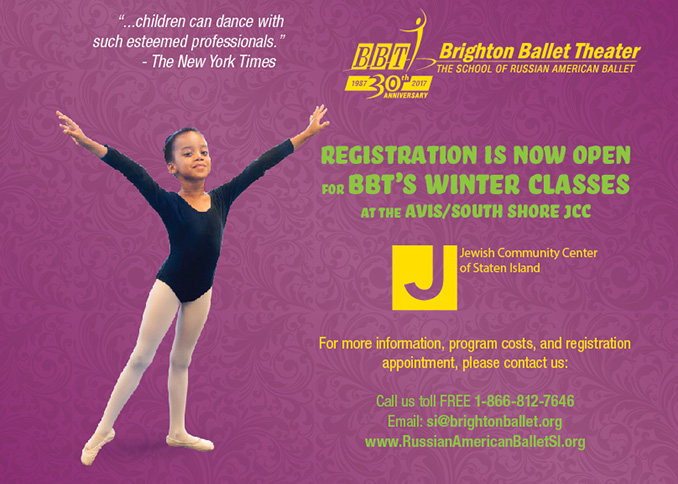 Thank you for taking the time to learn about BBT | The School of Russian American Ballet at Staten Island

BBT is a dance school dedicated to providing the highest quality dance education for girls and boys ages 2-19, as well as adults. Through the discipline and dedication dance requires, BBT molds and develops healthy, passionate, responsible, and well-rounded individuals who have the potential to succeed in any field. BBT draws on the rich traditions of Russian ballet. In addition to teaching all students in classical ballet using the Russian Method, we teach them folk & character dance, modern and popular dance, ballroom and Latin dance, staging for the students original and contemporary choreography. Our instructors have graduated from the world's finest ballet schools & colleges and have performed with the most prestigious ballet companies throughout the world.

BBT serves as a cultural oasis, keeping children off the street and bringing them into a world where imagination takes flight and all cultures flourish together. Through our dance program, more than 500 students learn ethnic dances from various regions of the world.

We offer our students a rare opportunity to perform professional, full-scale ballets for family audiences throughout New York City. While performing with the most esteemed dance professionals, at the best stages, in ballets choreographed specially for them, "Children Dancing for Children" program gives our students a sense of purpose and the excitement of sharing their art and mastery with their peers.

Our classes are held in Brooklyn on the campus of the Kingsborough Community College & Staten Island
---
Sharing rich cultural traditions of Russian* Ballet with its students, our 30 year-old school is the perfect place to get your youngster inspired about instilling poise, grace, creative inspiration, and confidence through the art of dance while making new friends.
---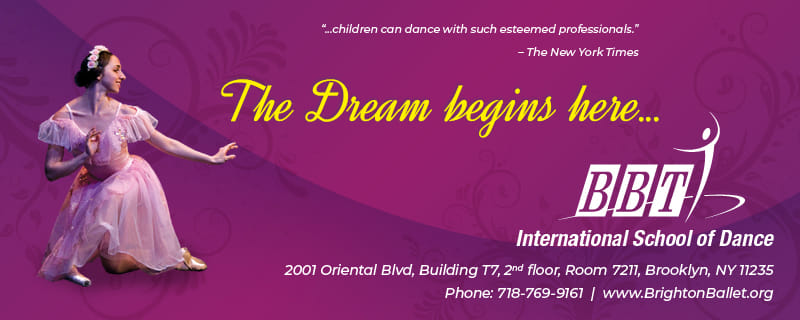 * NONDISCRIMINATION POLICY: BRIGHTON BALLET THEATRE ADMITS STUDENTS OF ANY RACE, COLOR, NATIONAL AND ETHNIC ORIGIN TO ALL THE RIGHTS, PRIVILEGES, PROGRAMS, AND ACTIVITIES GENERALLY ACCORDED OR MADE AVAILABLE TO STUDENTS AT THE SCHOOL. IT DOES NOT DISCRIMINATE ON THE BASIS OF RACE, COLOR, NATIONAL AND ETHNIC ORIGIN IN ADMINISTRATION OF ITS EDUCATIONAL POLICIES, ADMISSIONS POLICIES, SCHOLARSHIP AND OTHER SCHOOL-ADMINISTERED PROGRAMS.
---
Registration Package
Download:
Registration Form
About BBT Package
Schedule and Calendar
School Fees
Dress Code
---
Classes
Rhythmic Dance classes present rhythmic gymnastics in a playful setting, encouraging students to develop coordination, balance, flexibility, and confidence. Rhythmic classes develop graceful movement, flexibility and strength through tumbling and dance moves combined with hand apparatus.
Pre-Ballet is a preparation class for Ballet (Vaganova Technique) for younger students.
Ballet (Vaganova Technique) is primarily performed with the accompaniment of classical music and has been an influential form of dance globally. Ballet classes at BBT, Vaganova style, are taught since 1987 by some of the most outstanding choreographers with decades of experience and are the main focus of the school. Most importantly, ballet is considered to be the basis of all genres of dance, as most of them were derived from the movements of ballet. Ballet classes teach posture and how to use your core, and they are essential for developing strength and balance.
Character Dance is a specific subdivision of classical dance. It is the stylized representation of a traditional folk or national dance, mostly from European countries, and uses movements and music which have been adapted for the theater. At BBT, character dance represents preservation of Russia's cultural traditions and introduction to different peoples all over the world through the language of dance.
Ballet Pilates helps to build flexibility, muscular strength and endurance in the abdomen, hips, lower back, and legs. Ballet Pilates classes are very important for students' progress in ballet.
Contemporary Dance/ Jazz combines elements of jazz, modern dance and classical ballet's leg technique in favor of modern dance's stress on the torso, while it also employs contact-release, floor work, fall and recovery, and improvisation characteristic of modern dance. This dance sub-genre particularly develops in children a sense of rhythm and helps them develop physically.
---
Dress Requirements
There are specific dress requirements for students at the Brighton Ballet Theatre/School of Russian American Ballet. All students are required to wear appropriate attire to every class and will not be allowed to participate in class if the dress code is repeatedly violated. All students must have a clean uniform. Uniform may be purchased as a package with registration at the School's Office.
---
Tuition Policies
Payments are due by the first class of each month. Refunds will be given according to the following:
Registration fees are not refundable under any circumstances.
Full tuition is refundable PRIOR to the beginning of classes. Once classes have begun, full tuition is NON- REFUNDABLE.
Full refunds (except non-refundable registration fee) will be made to any registrant who submits a request, in writing, to the School's Office before the first lesson of the Session.
NO REFUNDS WILL BE MADE ONCE A SESSION HAS BEGUN.
All tuition fees are based on per lesson (NOT per hour) charges. School administration will change the length of the lessons depending on the level of instruction and number of students in the studio.
Students are eligible for selected class refunds only if they must withdraw from class due to prolonged illness (for more than one month), or severe injury, verified by a doctor's certificate.
Students who miss classes before the end of the semester are still obligated for the full semester fees.
---
Attendance
Consistent attendance is critical to consistent progress. Students or student's family must report all absences to the School prior to class time. Lessons missed due to the teacher's absence will be made up later. There are only 3 make-up classes per month. There is a $3 reschedule fee or $1 (per missed class) "make-up class" application fee. Make-up classes can be scheduled at BBT JCC SI location or at BBT Brooklyn location at 2001 Oriental Blvd, Building T7, Rm 7211, Brooklyn, NY 11235. To schedule a make-up class at the Brooklyn location, please call BBT's coordinator, Vladimir at 718-769-9161. In the event of severe weather and public schools are closed, dance classes are excused for the day, there is NO REFUND.
---
Rules and Regulations
Every student in the School is expected to behave in a disciplined and responsible manner, and to conform to the School's rules and regulations. BBT reserves the right to suspend/dismiss any student whose conduct or attendance are found to be unsatisfactory.
Parents are allowed to attend some classes only by the School's permission, or during the open classes.
School administration has a right to choose only particular students for specialized programs, concerts, performances and/ or competitions. Parents should understand that NOT all students will be selected for such events.
BBT holds the right to change a student's class if the teacher feels the class is not suitable for the student.
Since BBT is a non-for profit organization, during the Special Projects (i.e. Annual World of Dance Festival, The Nutcracker Season) participating students are required to pay a participation fee, which will cover costume rental, stage & transportation expenses, rehearsals, and music.
Costumes may be purchased for selected classes at BBT.
BBT faculty is not liable for injuries sustained or illness of any kind contracted by the students.
BBT is not responsible for lost or stolen property/belongings.
If your child has a medical problem, you should notify the teacher and the administration. The parent will need to provide us with a letter from a physician stating that the child is capable of participating in dance activities.
All children under the age of twelve years old must be picked up by a parent/guardian who will be waiting for the child in front of the class 5-10 minutes before the class is over. We are not responsible for children left alone.
---
Notices and Messages
Important School notices and schedule, including changes, are posted on the School's bulletin boards and website. You can also register on BBT's Yahoo group, follow us on Facebook and Twitter, or sign up for BBT newsletters to receive any important announcements and BBT news. To do so, please go to www.brightonballet.org and click the sign up button.
---
Nondiscrimination Policy
Brighton Ballet Theatre admits students of any race, color, national and ethnic origin to all the rights, privileges, programs, and activities generally accorded or made available to students at the School. It does not discriminate on the basis of race, color, national and ethnic origin in administration of its educational policies, admission policies, scholarship and other school-administered programs.
---
Photo/Video Release Policy
All videos, negatives and positive, together with the prints shall constitute property of the Brighton Ballet Theatre CO, INC., Solely and completely. All photos and videos may be purchased directly from the photographers/videographers.
Photos
Irina Alexander
i3478569545@gmail.com
T & D Video
info@tdsportsvideo.com
---
Teachers and Staff
Irina Lapteva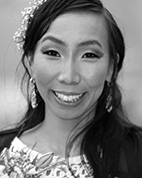 Born in Siberia, Russia, Irina Lapteva has been enrolled in classic ballet school since early age, and was professionally trained by the Vaganova ballet method at Yakut Choreographic College.
As a young dancer she toured with the State Theater of Opera and Ballet on many stages in Russian Federation and abroad which allowed her to get valuable performing experience. After several years of being a professional dancer, she moved to Moscow to pursue a Master Degree and became an instructor, specialized in classical ballet, modern dance and jazz. Moscow's complex cultural scene exposed her to a whole set of new influences.
In 2010 Ms. Lapteva moved to New York, where she became a principal dancer and instructor with Brighton Ballet Theater. Her experience and training education from Russia enabled her to become a top professional ballerina and instructor in the US.
Currently Ms. Lapteva is a professional ballet dancer, choreographer, instructor with Brighton Ballet Theater (BBT) for 5 years now. She is a faculty of children's division at BBT/the School of Russian Ballet teaching Ballet, Pre-Ballet, Rhythmic Dance and Ballet Pilates classes.
In the last three years she has also worked extensively with New York City Public Schools, as a teaching artist, where she distinguished herself as an outstanding professional and organizer.
She works with children and young students of all ages, with focus on development of body movement, flexibility, grace of lines and artistic presence, which are fundamental for the core personality of a ballet dancer.
Ana Lejava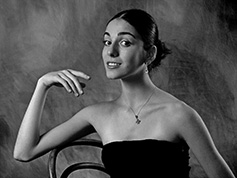 Ana Lejava, born in Tbilisi, Republic of Georgia, started her training at Tbilisi V.Chabukiani State Ballet Art School under the Artistic Director, Nina Ananiashvilli. While in the school, she worked with the Georgia's State University professor Natasha Digmelashvili on the classical repertoire and performed several roles with the Georgian National Ballet Theater.
In 2005, after receiving the full artistic and academic scholarship Ana continued her training at the Kirov Academy of Ballet of Washington DC, where she trained with Lyudmila Markovina and Anatoli Kucheruk. While in Kirov, she had opportunity to perform various ballets, and work with ballet masters such as former artistic director of Marinski Theater Oleg Vinogradov, and artistic director of Kirov Academy Marat Daukayev. In 2007 Ana was elected to participate in Kennedy Center Master Class Program and had opportunity to experience different techniques taught by the international dance companies and artists such as: Joffrey Baller, ABT, Bolshoi Ballet, Suzanne Farrell, Darci Kistler, Paul Taylor Dance Company and etc.
In 2009 after graduating from Kirov Academy, she started dancing with Atlantic City Ballet and spent a season with the company under the Artistic Director Phyllis Papa. There she performed roles in the classical and contemporary ballets such as, Midsummer Night's Dream, Sleeping Beauty, Nutcracker, Dracula, Mountain Legend, Les Patineurs and etc. After finishing the season with Acbt, Ana received full artistic and academic scholarship from the Birmingham-Southern College and was invited to join the Birmingham-Southern College Dance Company.
During her four years of studies at the university, Ana was a guest performer at the Alabama Youth Ballet Company, and the faculty member of the The Stevan Grebel Center for Dance. With the guidance and mentorship of the world renowned ballet master Stevan Grebel, Ana taught ballet, variations, and contemporary dance classes to the students of all ages, as well as give master classes to the students of V.Chabukiani State Ballet Art School, in her home town Tbilisi, Georgia.
In 2014 Ana graduated Magna Cum Laude from the Birmingham-Southern College with the Bachelor of Art's degree in Dance (Dance performance, education and choreography) and Bachelor of Art's degree in Political Science (With the focus on International Relations). Ana joined Brighton Ballet Theater, School of Russian American Ballet in 2014.
---
BBT STATEN ISLAND ADDRESS:
1297 Arthur Kill Rd, Staten Island, NY 10312
(718) 475-5270